WHAT NOT TO WEAR!!

Every Wednesday afternoon we have open calls. Hundreds of girls line up to be seen by agents in the hopes of starting a new or continuing a modeling career with Ford. What you wear says a lot about who you are and how you live. What you wear to a casting is the first and sometimes only impression another person will get of you. It is VERY important to "look the part." Ideally you should appear Model-esque i.e. relaxed, confident, hip and cool.
All of the girls who attend open calls are attractive girls. Not all of them however are models. Being a model isn't only about "look" it's about attitude and personality. One of the biggest mistakes girls make is showing up with loud, ultra-trendy outfits that make them appear insecure and look like they are trying too hard.
Here are a few examples of what NOT to wear: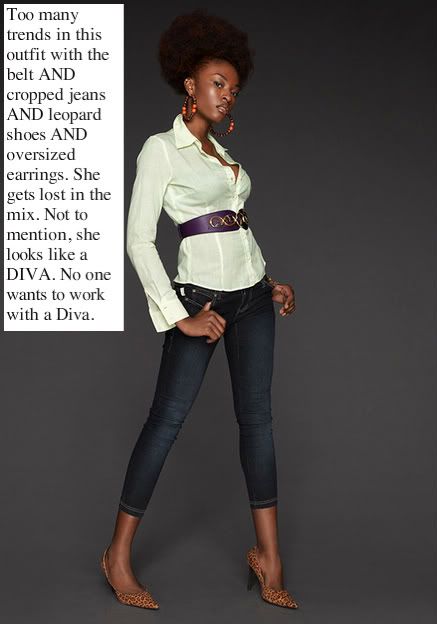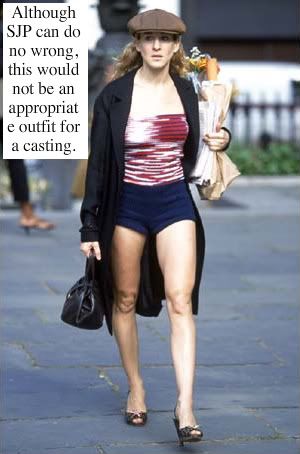 You never want to hide behind too much makeup or accessories. You should be a "blank canvas" wearing Simple clothing that show off your body and clean, fresh makeup that show off your face and bone structure.
Basic Casting Rules
– If you are NOT 5'10" or taller, NEVER go to a casting without your heels.
– Never be too colorful or too trendy.
– Never leave your pictures at home.
– Always triple check hygiene.
– NEVER wear too much makeup
What to wear to Summer castings:
• Sun dresses are a must
• Short skirts are great for showing off legs.
• Tanks tops simplify your look
What to wear to Spring/Fall castings:
• Skinny jeans show off legs and keep them warm.
• T-Shirts instead of tanks. Baby Tees are best because they hug the body more.
• A scarf adds a little life to a plain outfit. It's trendy and sophisticated.
• A sweater is a must for unpredictable weather and is good for layering.
• Pumps add height and keep the toes warm.
What to wear to Winter Castings:
• Long-sleeved fitted knit tops and dresses
• Opaque tights show off legs and keep them warm
• Skinny jeans
• Flat or high heeled boots (depending on your height)
• Always layer over fitted baby-tees and tank tops peel off the layers before you see the agent/client (remember the idea is to see your body)
If you disagree with anything in this posting…I don't make the rules…I only give you the info nobody else will.
Good luck!!
THE BLOGGING BOOKER